Xbox Series X and Series S
Pre-order the new Xbox Series X and Series S consoles
Pre-order the new Xbox Series X and Series S accessories
The fastest, most powerful Xbox ever.
Introducing Xbox Series X, designed for a console generation that has you, the player, at its centre.
Featuring:
12 Teraflops (TFLOPS) of Graphics Processing Unit (GPU) performance.
True 4K Gaming and 8K ready resolutions.
Up to 120 frames per second (FPS).
1TB custom SSD.
AMD's latest Zen 2 and Radeon DNA 2 architectures.
Power, speed, and compatibility.
The new SOC (system on a chip) has been built for speed and performance, featuring 12 teraflops of processing power and the compatibility to play four generations of Xbox games.
Keep it cool.
The innovative, parallel cooling architecture allows for stunning game experiences with incredible graphic fidelity and performance. The three primary channels, for parallel airflow, divide the heat load across multiple air streams. This manages the internal temperature of the console's subsystems, including the split motherboard and heat-sink chassis.
Split from the norm.
For the first time ever in a console, an innovative, split motherboard keeps the temperature of the internal parts evenly controlled, allowing the Xbox Series X to output more power.
More storage without compromise.
The Xbox Series X Storage Expansion Card provides additional game storage at peak speed and performance by replicating the console's internal custom SSD experience. The 1TB card is inserted directly into the back of the console via the dedicated expansion port for an easy way to boost your storage.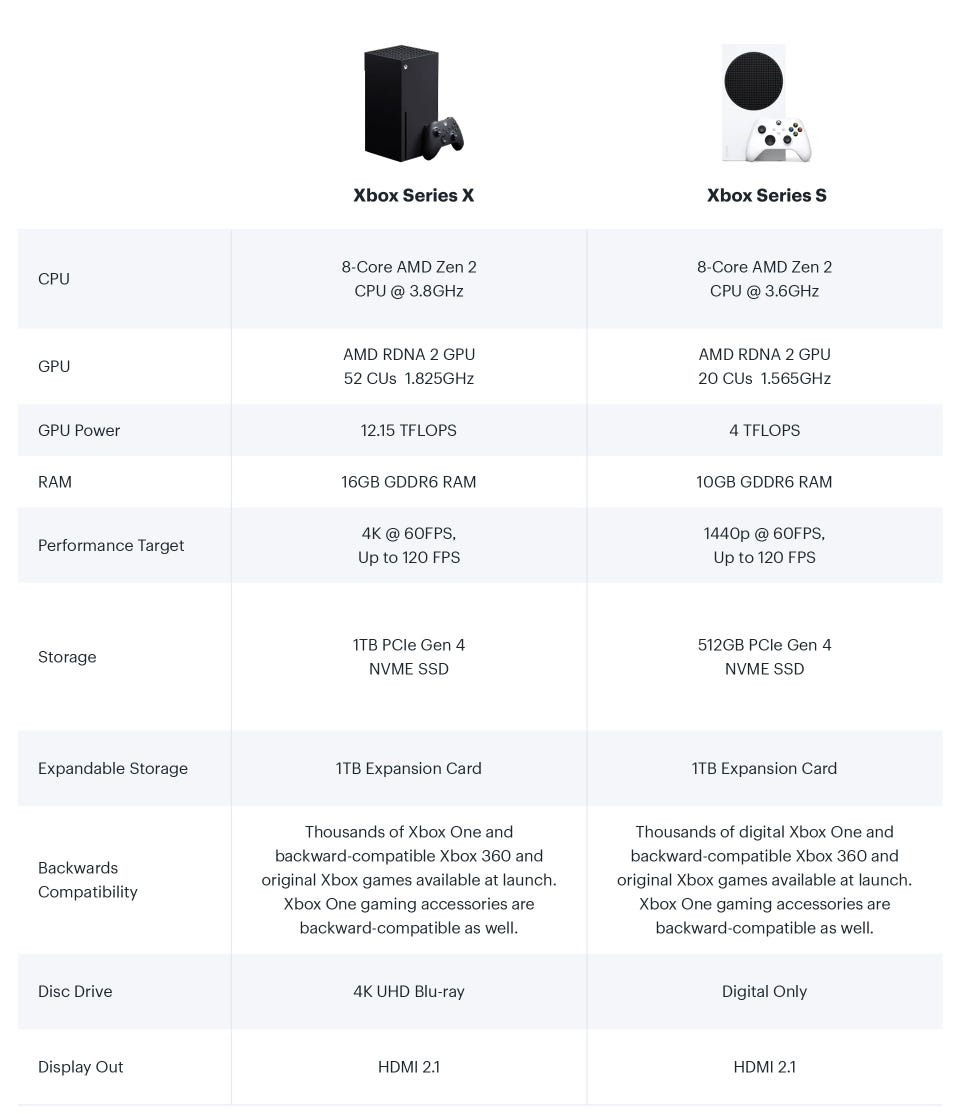 Pre-order the new Xbox Series X and Series S consoles
Games play even better.
Please enter your date of birth
It looks like you've entered an invalid date. Please try again.
Xbox Series X Games Showcase Trailer.
Through the revolutionary new Xbox Velocity Architecture, thousands of games on Xbox One, including Xbox 360 and original Xbox Games, will experience improvements in performance, including improved boot and load times, more stable frame rates, higher resolutions and improved quality on Xbox Series X.
Halo Infinite.
The legendary Halo series returns with the most expansive Master Chief story yet. With Xbox Series X and Xbox Series S, enjoy up to 4k resolution at 60FPS in campaign mode, and greatly reduced load times, creating seamless gameplay that ushers in the next generation of gaming. Included with Xbox Game Pass Ultimate upon release (Halo Infinite expected 2021).
The new Xbox Wireless Controller: You better hold on.
Experience the modernized design of the Xbox Wireless Controller, featuring sculpted surfaces and refined geometry for enhanced comfort during gameplay. Stay on target with textured grip and a hybrid D-pad, seamlessly capture and share content, and quickly pair with, play on, and switch between supported consoles, PCs, and mobile devices.*
*Important Information Compatibility depends on device and operating system version. Experiences may vary. Go to xbox.com/controller-compatibility for more information. The availability and sale of Xbox Series X is subject to required regulatory approval(s) in your jurisdiction.
Shop previous generation Xbox categories
What to know more? Here are our Xbox Series X FAQ
When is the release date for the Xbox Series X?
Pre-orders start on September 22 and will be available on November 10.
Xbox Series X Specs:
CPU - 8x Cores at 3.8 GHz (3.6 GHz w/ SMT) Custom Zen 2 CPU

GPU - 12 TFLOPS, 52 CUs at 1.825 GHz Custom RDNA 2 GPU

Die Size - 360.45 mm²

Memory - 16GB GDDR6 w/ 320b bus

Memory Bandwidth - 10GB at 560 GB/s, 6GB at 336 GB/s
Internal Storage - 1 TB Custom NVME SSD
I/O Throughput  - 2.4 GB/s (Raw), 4.8 GB/s (Compressed, with custom hardware decompression block) 
Expandable Storage - 1 TB Expansion Card (matches internal storage exactly)
External Storage - USB 3.2 External HDD Support
Optical Drive - 4K UHD Blu-Ray Drive
Performance Target  - 4K at 60 FPS, Up to 120 FPS