Philips Hue Bridge 2.0 with 2 A19 Smart Light Bulbs - White & Colour Ambiance
---
Overview
Get complete control of your home lighting with this Philips Hue bundle. The Philips Hue Bridge 2.0 pairs your Philips Hue devices with your smartphone, and lets you adjust your lighting with just the touch of your phone screen. Pair it with the 2 included Philips Hue A19 smart lightbulbs and start customizing your home lighting.
Bundle Overview
Here's what you'll get:
Philips Hue A19 Smart Personal Wireless Light Bulb - White & Colour Ambiance

Philips Hue Bridge 2.0
Sold and shipped by Best Buy
Reserve & Pick Up
This product is currently unavailable for Reserve & Pick Up at nearby stores.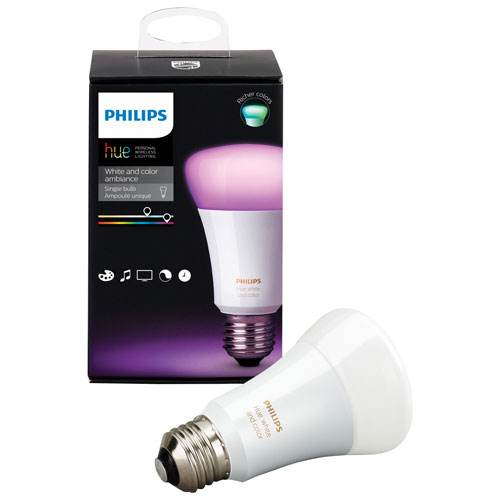 Philips Hue A19 Smart Personal Wireless Light Bulb - White & Colour Ambiance
Web Code: 10489018
Add accents or create lighting effects that range from subtle to striking with the Philips Hue A19 smart personal wireless light bulb. This dimmable, 800 lumen bulb offers 16 million colours and screws into any standard light socket. It connects wirelessly to your Philips Hue bridge (sold separately) to enable
---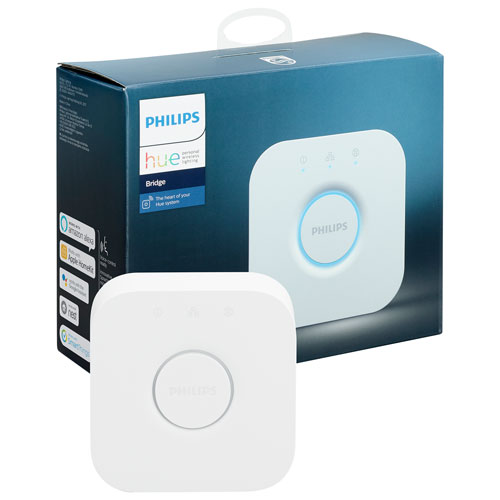 Philips Hue Bridge 2.0
Web Code: 10405000
The Philips Hue Bridge 2.0 is the brains behind your smart home system, allowing you to control your Philips Hue devices using the Philips Hue app on your mobile device. Powerful enough to handle up to 50 lights, this 2.0 bridge works with Apple HomeKit, Google Assistant, and Amazon Alexa,