Compare Apple iPad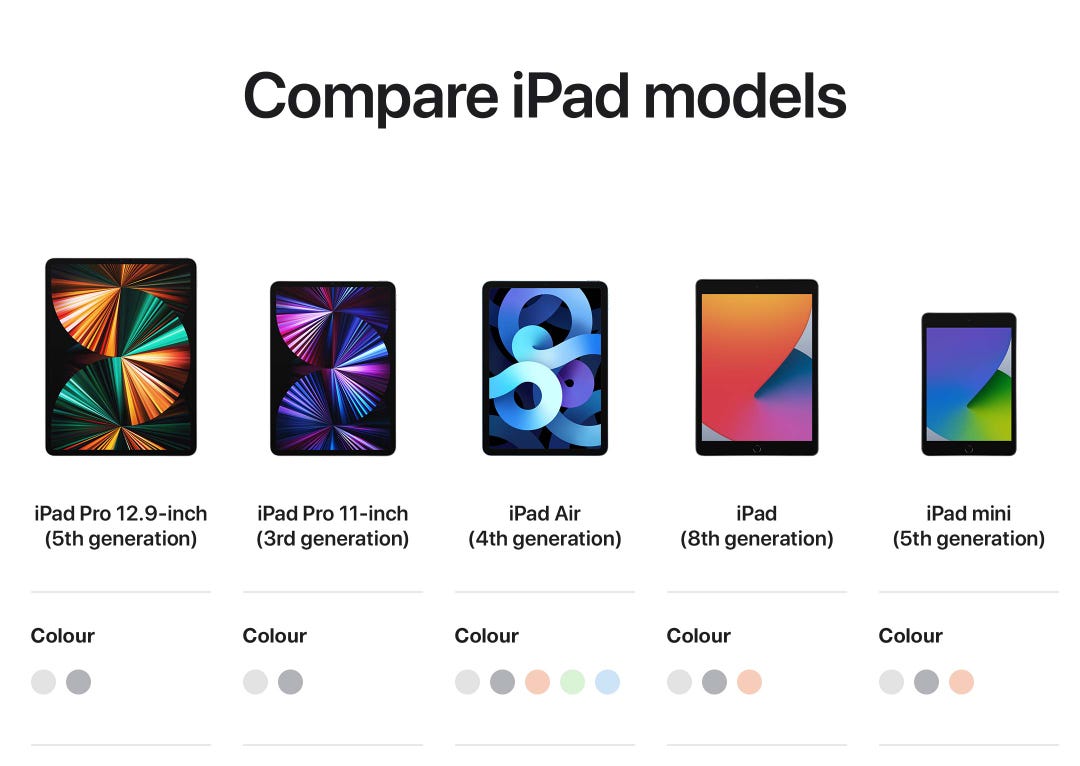 1. The displays have rounded corners. When measured diagonally as a rectangle, the iPad Pro 12.9-inch screen is 12.9 inches, the iPad Pro 11-inch screen is 11 inches and theiPad Air (4th generation) screen is 10.86 inches. Actual viewable area is less. 
2. Data plan required. 5G, Gigabit LTE, Gigabit-class LTE and Wi-Fi calling are available in select markets and through select carriers. Speeds are based on theoretical throughputand vary based on site conditions and carrier. For details on 5G and LTE support, contact your carrier and see apple.com/ca/ipad/cellular. 
3. Available space is less and varies due to many factors. A standard configuration uses approximately 10GB to 13GB of space (including iPadOS and preinstalled apps) depending on the model and settings. Preinstalled apps use about 4GB, and you can delete these apps and restore them. Storage capacity subject to change based on software version and mayvary by device. 
4. Size and weight vary by configuration and manufacturing process. 
5. Battery life varies by use and configuration. See apple.com/ca/batteries for more information. 
6. Cellular data plan is sold separately. The model you purchase is configured to work with a particular cellular network technology. Check with your carrier for compatibility and cellular data plan availability. 
7. Not all carriers support Apple SIM and eSIM. See your carrier for more details. Not available in China mainland. The eSIM technology works with iPad Pro 11‑inch (1st generation or later), iPad Pro 12.9‑inch (3rd generation or later), iPad Air (3rd and 4th generation), iPad (7th and 8th generation) and iPad mini (5th generation). Apple SIM works with iPad Pro 9.7-inch, iPad Pro 10.5‑inch, iPad (5th and 6th generation), iPad Air 2, iPad mini 3 and iPad mini 4.