---
Returning an item purchased online by mail
Returning an item purchased online by mail
The fastest and easiest way to return an item is by bringing it to a Best Buy store near you. However, in some cases, certain items that have been purchased online can be returned by mail. With some items, you'll also be able to print a prepaid return mailing label. If you don't live near a Best Buy location and are eligible to ship your product back, learn how to do so below. 

To get started and find out if your product is eligible for a mail return, view your order details online and then follow the steps.
Do you need to return a Marketplace product? If you purchased a Marketplace product, an item sold by our trusted seller-partners through BestBuy.ca, you will need to follow the process for returning a Marketplace item. Please check your item to make sure it is a Best Buy product before following the steps below.
How to return an item purchased online by mail: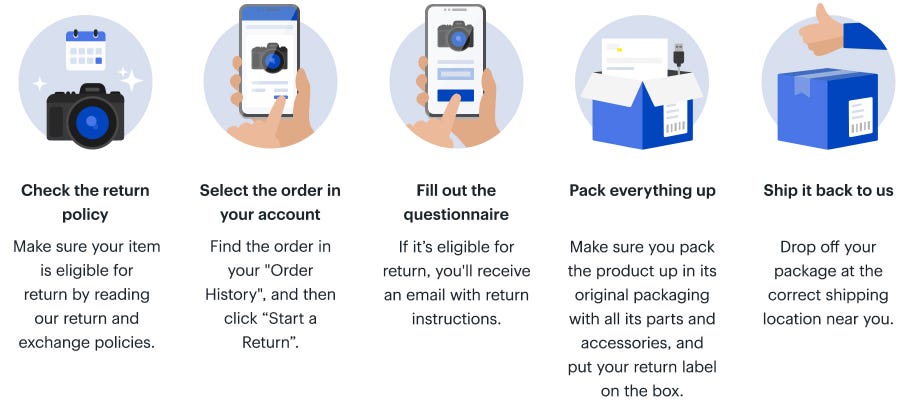 Check the item's return policy: Make sure your item is eligible for return by reading our Return and Exchange Policies. Most purchases from Best Buy can be returned or exchanged within 30 days from the date of your in-store purchase, or 30 days from the date your online order is delivered, with some exceptions and depending on the type of product and the condition of its return.
Select the order through your Best Buy account: Your orders can be found in the "Order History" section within your online account. Click on the order you want to return and look for the "Start a Return" button. Most likely, if the "Start a Return" button isn't there, the product is no longer returnable. Please contact us for further help.
Fill out the questionnaire to submit your return: If it's eligible for return, you'll receive an email with info on how to get the item back to us which may include a prepaid return shipping label.
Pack everything up: Make sure the product is in its original packaging, and that you include all the parts of the product, including original accessories and any bonus items (if applicable). If an item is being shipped to you in multiple boxes, please wait until you've received the final box before making a return. The return period will start after you get the final box. Pack everything up in a box with your packing slip, then seal it and put your return shipping label on the box.
Ship it back to us: Drop off your package at the correct shipping location near you. Once it ships, use the link in your confirmation email to track its progress.
Once we've received the item, we'll process a refund to your original payment method within 10 days.

Please be aware that return shipping labels are only valid for either 5 or 14 days after we email them to you, depending on your order's shipping method:
Return labels for orders shipped via Purolator are valid for 5 days.
Return labels for orders shipped via Canada Post are valid for 14 days.
Other helpful information
Still looking for an answer?
We're here to help. Please contact us and we'll make sure you get the information you need.