Common Shipping Questions
How is COVID-19 affecting large item deliveries?
Large items that require scheduled deliveries include appliances, large TVs, and exercise equipment. Our delivery partners are ensuring that additional safety measures, such as doorstep delivery, are in place during this challenging time. For more information, please take a look at our COVID-19 precautions for large item deliveries.
How long does shipping take?
Our goal is to get your items to you quickly. We use different shipping companies, depending on the size of your item, your location, and the seller.
Please be aware that COVID-19 has caused an increase in shipping volume, which could affect your delivery time. If you've already placed an order, follow these easy steps and track your order to get the most accurate delivery information.
Best Buy orders
For the most accurate delivery date information, check individual product pages. You'll see an estimated delivery date based on your location and current postal carrier timelines.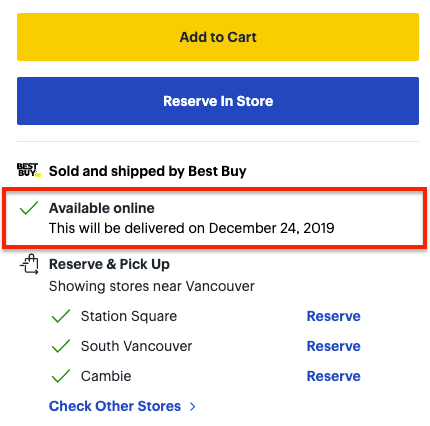 Please note: We do our best to ensure our delivery date estimates are as accurate as possible, however sometimes service disruptions may affect the accuracy. Once your order is shipped, you can track it on the shipping carrier's website for the latest information.  
Large items
Deliveries are scheduled for large or heavy items like TVs, appliances, mattresses, and fitness equipment. The scheduling method is based on the shipping address you enter during checkout.

Major urban areas: you can schedule a preferred delivery date during the checkout process.
Remote areas: once you've placed an order, a delivery carrier will call you within 7 days to schedule a delivery date. Please note, the delivery cost will vary based on your location.
Need to reschedule? You can do it up to 2 days before your original scheduled delivery date.
Learn more about large item deliveries
Marketplace orders
Every Marketplace seller has different shipping timelines. You can find seller shipping policies on the product page.
Pre-orders
Release dates for products can sometimes change without notice or liability. If you've pre-ordered a product, we'll ship it as soon as possible after its final release date, which may be different from the initial date advertised.
What if I missed my delivery?
If you missed your delivery, here's what will happen:
1. You'll receive a delivery notice card telling you where and when you can pick up your order. For some items, the carrier will contact you to set a delivery appointment or to confirm pickup of the order.
2. Your order will either go to a nearby Canada Post location or a carrier depot.
3. When you pick up your order, make sure you bring your order number and valid photo I.D.
Can I ship to a P.O. box?
Yes, via Canada Post. To make sure that orders being sent to PO boxes and rural route addresses get to their proper destination, please include a physical street address or highway number with your order. Items that are over 30kg will only be available for pick-up at the local courier pick-up depot.
Please note: oversized items, scheduled delivery items, and dangerous goods (such as pressurized CO2 canisters and batteries) require a civic address and cannot be shipped to P.O. boxes.
If my package gets lost, who do I contact?
You can contact our Customer Service team (call 1-866-237-8289) and if you're eligible, we will start a trace with the applicable carrier on your behalf. 
Please note:
Claims must be made no later than 90 days after your order was shipped.
Canada Post will not open a claim on your behalf, the claim has to come from the Best Buy customer experience team.